---
Matt Wisdom

BSc (Hons), PGDip, FRAI
mtwisdom@outlook.com
---
I joined the department in 2015 after around a decade of working in the horticultural industry, on the BSc Archaeology with a Year Abroad. My interests are fairly broad, spanning human evolution, primatology, conservation and the African palaeolithic. I'd always had an active interest in palaeoanthropology and came to the department after meeting Professor Clive Gamble. As such, I quickly became involved in CAHO and the department as a whole, delivering talks on human evolution at open days and outreach events at the university as well as the annual Archaeology and Anthropology Days in London.
A highlight of my undergraduate degree was spending my year abroad in South Africa as a visiting researcher at the University of the Witwatersrand in Johannesburg. Whilst there, I worked on some fundamental palaeoanthropological sites including Sterkfontein, Swartkrans, Kromdraai and Makapansgat, catalogued hominin fossils at the Evolutionary Studies Institute, and co-created the first digital catalogue of the Sterkfontein Member 4 and 5 faunal collection. I also took part in outreach events at the local Origins Museum in Johannesburg, guided students on a field trip to Sterkfontein, and gave talks on South African handaxes to students on the Swartkrans field school alongside Professor Ron Clarke and Professor Kathy Kuman. My work in South Africa formed the basis of my undergraduate dissertation supervised by Professor John McNabb (Mac), focussing on quantifying variability in the Acheulean handaxes across three key sites in South Africa; Sterkfontein, Rietputs, and Cave of Hearths. I graduated with Distinction in 2019.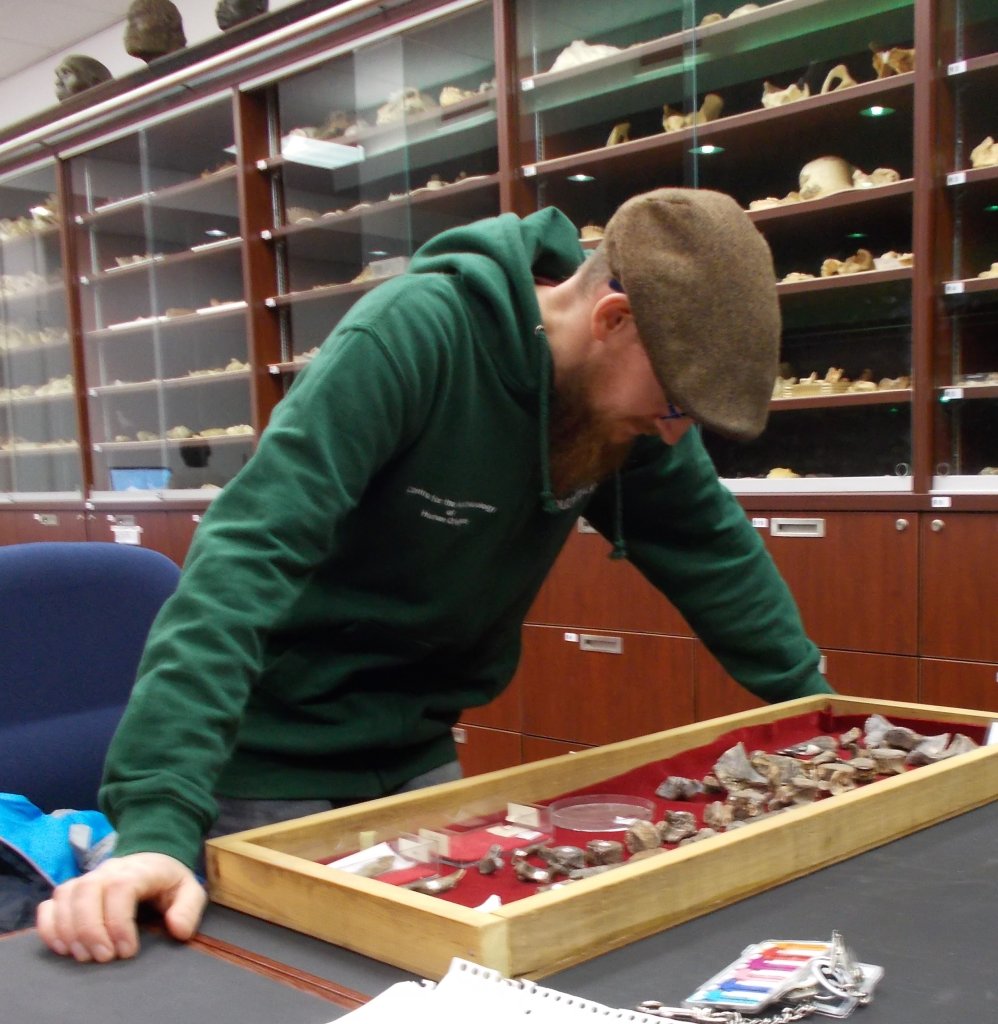 Since then, I have focussed my studies more on biological anthropology and primatology. The pandemic thwarted my plans for primatological field work in Kenya, and so I undertook a Postgraduate Diploma in Anthropology at Oxford Brookes University which I attained in 2021 with Distinction. With the continuing pandemic, I am currently running my horticultural business, and am involved in a practical habitat management course at Merrist Wood College in Guildford, learning the traditional methods and practical skills for British habitat conservation and management. I hope to return to academia in the coming year, and am currently talking to colleagues at in the UK and South Africa as to potential collaborations.
In addition to my affiliation with CAHO, I am also a Fellow of the Royal Anthropological Institute and a member of the Primatological Society of Great Britain. I have been a co-organiser of the CAHO Seminar Series since September 2020. I am also part of the committee for the upcoming Unravelling the Palaeolithic 2023 conference.